Attration Category
Shangqiu Weather


55F ~ 77F
Cloudy To Sunny
N at 20km/h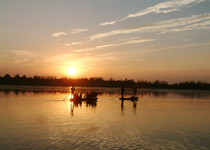 Yellow River flows through the first two years of Shangqiu is Song Shaoxing, Jin Taizong days will be ten years (1132). Five years of the Qing Xianfeng (1855) diverted north migration, flows through the territory of a total of 723 years Shangqiu. Now, here left a magnificent Yellow River.
Is known as the "water wall" so the Yellow River dike, built in Jiajing twenty-five years before (AD 1546), Ming and Qing dynasties frequently upgrading, it said "Ming Yellow River levee," So far, 450 years of history, is currently the best preserved of the National Yellow River embankment.
Embankment planted a lot of forest, fruit treesLine of trees. There are six oxbow bamboo-type reservoirs, the formation of six natural lakes, water area of tens of hectares. Liu lake existing surface of 1.2 hectares, about 5,000 meters, with an average width of 1,200 meters, with an average depth of 1.8 meters. According to historical records has not seen the lake dried up phenomenon, which also were not any pollution. Lake clear water rippling, sparkling, crystal clear lakes, endless, lush. Has now been listed as a national wetland protection zone.
In addition, there is the old course of the seven forest lake, Lake Tuen Ng, Ren Zhuang Hu, Zhang House Lake House Lake Zheng, school of northern rivers and lakes scenery, is a good place for eco-tourism.