Attration Category
Wuhu Weather


70F ~ 86F
Cloudy To Thundershowers
E at To 20km/h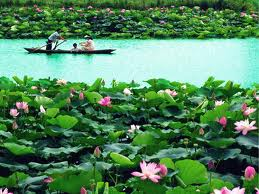 Located in Wuhu County, about 20 kilometers away from the city. Qingyi Wanting over, within the vertical and horizontal drains, clear water surrounded by the year 1999 constitutes a distinctive "Tao Xin Aqua" was named one of the ten Wuhu City, in 2002, "Tao Xin Aqua" Tourism in the State Administration for Trademark up, the area has potential for further construction.
Yun Tao Xin scenic area of 81.8 square kilometers of water, water criss-crossing the region, was "gossip"-shaped distribution, the cumulative up to 100 kilometers. Tao Wei Xin built 1108 years in the Northern Song Dynasty Grand). According to legend, a carpenter named their pottery, are the descendants of Tao, from Jiangxi JiangzhouMoved here, to mobilize people around Fair into an oval. Ida-type cut by drains, Gully interlinked, drainage canal connected to mu River, the Millennium is not broken, immersive, Utah into the maze, in fact, South Cave.
Xin Tao Water Rafting, shade trees, ocean waves, the leaves Tada, Tern play, nature, fresh and simple, it is enchanted. Wei Hong Lake Island Park is one of the main attractions. Xianghe built pavilion, fishing booth, strong ceramic Pavilion, Drunkard Pavilion, nine Long Bridge and the Hong Lake Hotel, the natural beauty of water for the mu and added a simple, elegant rhyme.
Fair in the Historic "Tang five crossing", "cool crossing""Monk Bridge" and "Temple Church" and has a touching story. Water in particular, people love the dragon boat races, has become a tradition of local cultural activities. Every event, people gathered in the shore, water drums thunder, constitute another Tao Yun Xin water landscape.