Attration Category
Wuhu Weather


70F ~ 86F
Cloudy To Thundershowers
E at To 20km/h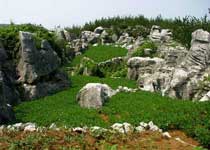 Located in the south of the Yangtze, He Wanzhen Nanling County, located in Tongling, Chizhou, Wuhu three cities at the junction of superior location, convenient traffic, 205,318 State Road at this intersection, Copper yellow, along the high-speed area 14 kilometers away from the intersection of , 35 km away from the Nanling, Wuhu 77 km, 190 km Hefei, Nanjing, 180 km, 70 km Xuancheng, Shanghai, 380 km, 45 km Tongling, Jiuhuashan 58 km, 130 km Huangshan.
Scenic area of 25 square kilometers, is China';s Yangtze River Delta region distribution of the largest stone forest karst landscape, the local stone forest, cave, waterfall, Canyon, sinkhole, river, lake landscape Peak integration, beautiful scenery.
Ah Dan Hill is the wind protection of geographical origin, the famous "Peony" Every time before Tomb Sweeping Festival, a film, a clusters of blooming peonies interspersed between the mountains Dan Fengyan, flowers and stone exist side by side, contests, and beautiful. "Why flowers to Luoyang, Aromatic yarshan more" exposure among peony flowers carried away Dungan, an area of three acres, a great spectacle for the South.
Shixian Li Bai had resident here, and wrote the lyrics to "Do not Nanling children into Beijing," a poem. Yingwu, Wang and Tang,Mei Ding oak, etc., in this history has left traces of celebrities. Nanshan Temple scenic area is said to go for the king of the underworld Jinqiao Jue Jiuhua ago, through this place was built a long history of Buddhist culture.
The ancient name and ancient carved stone temples, all people germination nostalgia, Tang, Song, Ming and Qing stone arch bridge built twelve. Ming Mei Ding oak poet wrote "Fei Liu Baizhang hundred feet peaks, Dai Lo mirror heavy diarrhea. Minghe fall to half-off, the second Yinqiao lock Yulong" poems through the ages. Can show "bridges people," the poetic.