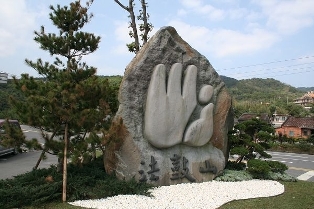 Dharma Drum Mountain is influential in Taiwan Buddhist temple, founded by the Buddhist Master Sheng Yen, a famous Buddhist groups in Taiwan, is considered one of Buddhism in Taiwan four hills. Dharma Drum Mountain every year to promote the recruitment of many of the community education, charity work, and held many Dharma talks and activities, a good place to study Buddhism.
Dharma Drum Mountain';s predecessor was created in the East early elderly "agricultural Temple" and "Chinese Buddhist Cultural Center." Temple to raise agriculturalBuilt in 1971, the meditation-based, farm living, in 1975, named "agricultural Temple." At that time, the East is committed to promoting the beginning of the elderly in Taiwan Buddhist culture, Buddhist training personnel, and organized an annual winter relief activities.
In 1977, Chinese Buddhist Master Sheng Yen took over as cultural centers and farm monastery';s Abbot, with the exception of Chi Cheng Jidong the beginning of the elderly, more people will be converted to Buddhism to understand, accept and use the concept of self-cultivation, and then to promote work. Subsequently, the farmers and the Chinese Institute of Buddhist Studies temple devotees and studentsIncreasing, then in 1989, cause the Three Realms in Taipei County purchased a piece of village land, Master Sheng Yen will be the name "Dharma Drum Mountain," which means "Dharma Drum Mountain" in the name of the organization set up in Yan.
Dharma Drum Mountain with "Fa Hua Zhong", the annual New Year will be ringing bells in this grand ceremony. "Fa Hua Zhong" for the mountain town of Dharma Drum Mountain properties, and its special, inside and outside the bell in the clock face engraved with "Lotus Sutra" a total of 69,636 words, "Compassion," a roll of 424 words, and "Buddha and more than double the pagoda to sit map" one.
The beginning of the Dharma Drum Mountain - Chinese Buddhist Cultural Center is located in Beitou District, Taipei City light on the road, held regularly every month, "pharmacist Puja will" and "Goddess of Mercy Puja will", respectively, the Lunar New Year and July start construction period 3 days of "Thousand Buddhas Repentance", "to possession of law" so that people living in Taipei City can be close to the region of the profound insights of Buddhism.
Traffic
& nbsp; specific location: Taipei County village of three medium No. 7 o 14-5.
Transportation: Take the bus terminal across the water to the MRT Jinshan, Wanli, Keelung Road, such as bus, get off at the transfer station Jinshan Jinshan -828-- Dharma Drum Mountain, Jinshan -829-- Dharma Drum Mountain in Taipei County cities District bus to arrive.