Attration Category
Shangqiu Weather


55F ~ 77F
Cloudy To Sunny
N at 20km/h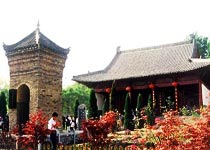 Mulan Temple is located 35 km south county business, Yucheng Town, Zhou Village profile. The Temple was built in the Tang Dynasty, the Jin, Yuan and Qing was rebuilt each generation. Mulan Temple has an area of million square meters, with the door, hall, Xiandian, after the House and allocated units and so on.
Yingzisashuang large hall with statues of military uniform, Mulan and Mulan father';s military service records, warrior, triumphant return of the sculpture and of painting. Two-Cinei a temple monument: a two years through the Yuan Yuan Tong (1334) by the legislature, "Discrimination of filial piety, like the general strong mind," the monument, the inscription contains the identity of Mulan, a glimpse of the general';s confirmation strong filial piety and "Mulan "full text. Another eleven years through the Qing Dynasty Jiaqing(1806) by the legislature of "filial piety Mistakes strong name the general mind," the monument. In 2000, the State Department here, the Post held a "Mulancongjun" commemorative ceremony.
Read today disguised as a man ages, father';s military service heroine Mulan business profile for the town of Shangqiu native of Yucheng County. Mulan surname Wei, name Mulan. Sui raising, Mulan father';s military service, ages Liufang.