Attration Category
Shangqiu Weather


55F ~ 77F
Cloudy To Sunny
N at 20km/h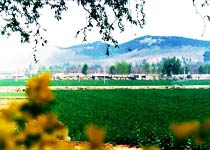 Shangqiu city located 80 kilometers east the territory of the eternal city, Henan Province is located in the eastern border of the city forever, and Shandong, Anhui, Jiangsu provinces adjacent to, known as the gateway to the East of Henan Province, said. Throughout the city the land forever, "the North Mountain Dang Zhi, drain water, South Central, Xu Huai east, west, Liang and Song, closed-door lock and key are two rivers, the West Chu throat based insurance, though partial eup of Maps, the real gateway to Eastern Henan . "
Wing city since ancient times is the "willow brush spring, autumn gold everywhere Wo" resort. Mainly by the Prince Liangxiao tomb, the tomb of the queen, murals and other 21 magnificent tomb of the Western Han Dynasty Tomb Tombs and cut the snake monument Liu, Sheng tomb, Fei Chai, Confucius Temple, Confucius, rain shelters and other dozenScenic composition. The maximum elevation of 156.8 meters Dangshan Mountain, the area mostly in the main peak of Mount Dangshan and Security Hill. Known as the thirteen "fairy peak" of the name.
Traffic
Address: Wing City Mountain Town Shiyuan village.
Car lines: Shangqiu - Mount Sanei City - Mount Hill. Mountain Town car.
Tickets
Tickets: Pass 80.
Hours :8:00-18: 00.