Attration Category
Shangqiu Weather


59F ~ 81F
Sunny To Cloudy
N at 20km/h To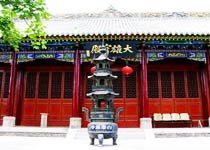 Henan Province is located 20 kilometers southwest of the county civil rights clouds coke, that is, the county civil rights Baiyun Si village.
Temple faces south, along the central axis before and after by the Skanda Temple, Main Hall,; the right side of the Hall of Mental Cultivation, the left side of the meditation hall, a total of more than sixty rooms. Arhat Temple which Miankuo five, Dan Yan Shan-style hanging gray Panwa and yellow glazed tile roof, with the platform. Five rooms on each side of things, hard hill top type gray tiles, white marble lions has gate subglottic pillow stone pair.
Rohan Hall on both sides of the "iron Huai", circumference 2.4 meters, 4 meters high. In a large wok in growth. Skanda hall a large iron bell, weighing about 750 kg, Ming casting. There are incense brazier, the Qing Emperor Kangxi casting, weighing about 500 kilograms, the species name cast a donor.
In addition to the above, the most important Buddhist sites Baiyun Si also Tisa woman Oh by the bell, also known as "multi-pagoda" in Baiyun Si after the main building, built in Song Dynasty. 4 meters high, nine hexagonal tower who carved Buddha figure, the six monks chanting drum map, "Tisa woman Oh," Scripture and the sun, moon, cranes and lotus and other designs. BUDDHA pagoda, in the Baiyun Si hill 50 meters northeast, was built in North Korea early. Stone, three hexagonal pavilion style, and 4 meters high. The lower part Xu Mizuo, regular script incised front tower "BUDDHAChuan Cao I, Buddhist pagoda public monk thirty "16 words. Also carved windows and doors, flowers, birds, insects, grass and animals and other patterns.