Attration Category
Nanjing Weather


30F ~ 46F
Cloudy
N at 20km/h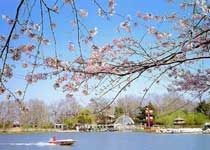 Xuanwu Lake is a lake in the central-northeast part of Nanjing, Jiangsu, China, near Nanjing Railway Station and Ji Ming Temple. The Ming city wall borders the park to its south and east and there is a notable pagoda and the Zifeng Tower overlooking the lake.
The lake covers 444 hectares and is 15 kilometers in circumference. According to the local legend, a black dragon was seen in the lake and was believed by Chinese Taoists to be a god of water protection called Xuanwu which gave it its name.
Lying in the city center of Nanjing, Xuanwu Lake is well known for its beauty and its surrounding environment, including the nearby ancient city wall, and is one of the three famed lakes in the South of Yangtze River. The lake occupies 3.7 square kilometers and is one of the largest comprehensive entertainment centers of the city.
There are five green isles dotted in the lake, connected by bridges and dykes, and each of them displays its unique characters, diverse landscapes, gardens with different plant and flower species and rockeries.
Jogging along its lake shore or sitting in a boat with your family or friends, one will see the crumbling ancient city walls, chrysanthemum show, God Temple, architectures and more. In the summer, one will never forget how the coolest wind blows away the scorching heat.
The lake is popular for both visitors and residents and has been recognized as a 4-AAAA national tourist attraction.