Attration Category
Zhuhai Weather


57F ~ 70F
Overcast To Cloudy
N at 20km/h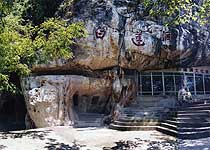 White Lotus Cave also called "carp mouth", is located in the northern of Jidaguan Village. Be famous for " In the old time, there was a buddhist hiding here and planting the white lotus", and built in Qianlong Emperor. It is picturesque scenery, jagged rocks of grotesque shapes, and it is also built pavillion, stone bench, barbecue, it is natural beauty charming.
It is said that according to legend, there was a red carp practicing in the water. One day after thousands of years, the red carp wanted to try its supermatural power, then it spited colorful Xian Qi tu the sky. The Xian Qi flinged the skies and suddenly a red cloud appeared in the sky. A dragon appeared in the cloud and spited nine air to the human. It was the auspicious light and dazzing. Nine air into nine gold dragon suddenly and flied to the lake and play. The red carp had a sense of inferiority, so it decided to cultivated itself according to a religious doctrine. Red carp sincere, and the Buddha was moved by that, the he sent out down red dot ascension of the carp goddess, but red carp had became a dragon fossils, lying in the mountains through the lotus, with a pill lips spring, people call it "Longquan Water", springing spray three feet, wage-earners bite people, aged up.
When the red carp died, it had ever vomited a jade bead in a mountain, into lotus tower. Next to the earth saw the goddess of mercy lotus tower such as flower, can't help move, then returned to heaven, in the mountains in the cave, from now on the mountains are the view sound rock, the view sound play by interview, into a huge list of friends "MuYuShi". View sound mouth of read out "namo amida Buddha" into the handwriting, distribute in the rock.

Lodging: It's located in Gongbei Port Zhuhai. There are Huaqiao Hotel, Yindu Hotel near it.

Traffic
Bus 5, 14, 30, 60

Noctivagation: At Jiuzhou Port Time: 18:30 including buffet, 20:30 including snack and drink

Ticket: CNY30

Opening Time: all day