Attration Category
Zhuhai Weather


68F ~ 77F
Cloudy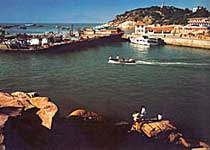 Wai Lingding Island is located to the south of Hongkong. It is an island town under the jurisdiction of the east district of Zhuhai City. It is 27.5 sea miles away from Macao and the urban areas of Zhuhai to the west, about 35 sea miles from the Shenzhen City to the north, 6 sea miles aways from the Changzhou Island in Hongkong and 11 sea miles away from the Jianshazui harbor in Kowloon. There are fliers and yachts coming and going every day. Wai Lingding Island has a unique style among the scattered Wanshan islands. It covers an area of 4.23 square kilometers. It is graceful and tranquil with fresh air. It is famous for its natural beauty, an ideal place for tourism and vacation, large and small conferences, and all sorts of trainings.
Zhuhai is not too hot in summer or too cold in winter, since May to Oct are the rainy seasons, the best time to visit Zhuhai is March, April, October, November, December.

Opening Hours:the whole day

Food: Seafood Wailingding Island "Sambo" : Sea urchins, snails and will cap the dog claws, but do not forget to taste.

Outer Lingding Island fishermen can enjoy authentic seafood cuisine, open the fishermen at the pier near the boat on the hall, up a simple delicious, fresh seafood, natural sound, if you ask, you can eat seafood sea. Wailingding Island, there are some seafood restaurants, the environment is also good, consumption is not high, usually near the pier.

Accommodation:Aquatic hotel, double room 130 yuan, triple 150, usually can be 8-9 fold.

Transportation
Xiangzhou Beidi Zhuhai ferry terminal, the Clippers two classes a day.
Xiangzhou Start time: 8:20,14:30; Return: 10:10,16:20. About a half hour trip, fare 85 yuan.