Attration Category
Yangzhou Weather


43F ~ 52F
Cloudy
E at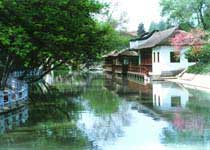 Ye Ye Yu Chun that men and women go out to play in the spring called the rule of the spring. Thin strip of West Lake from the south rather than the rule of Spring Garden, lake waterside building with Cao Lu, the ancient Puqing Ya. Viewing lean on a railing, the water ripples. Park is also on display to send tens of thousands of bonsai pots Yang, thousands of colored tail goldfish, and a variety of rare island birds, flowers, even more beauties of springtime.
Combination of gardens and Chasi here in this garden, enjoy the scenery, tea, snacks, and only a taste of the local folk customs of rural wind, but also enjoy the natural pleasure of simple style.
Qing Wang Yuyang originally association poetry of the poet, the site of the Hongqiao West. This park was built in the Late Qing DynastyThe beginning of clean south, north low port. There Shuihui Court, asked on Hillside Garden, Hong Shadow Gallery and other construction.
Spring Garden in the spring and the rule of the rule of society is a famous tea house in Yangzhou, when the legend began to Gaozong trip to the south along the drinking water for the start. 8 yuan Tang Bao a, 4 yuan a cup of tea, features dishes Quebec Pearl, four-color pot pie, crab roe soup packets, cooking Gansi so big.
Traffic
Under the pier to the west of Royal Street Fongle
Car station 5 Road, West Bus Station and get off by 3 Road to Trust.