Attration Category
Yangzhou Weather


30F ~ 48F
Sunny
N at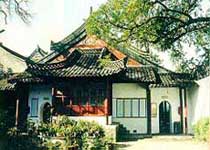 This temple combines the ancient buildings of Islamic architecture and style features. In the construction of the mosque to form by crane from the "mouth" to "tail" layout.
The original wall as the wall opposite the door to "picks" (1958 scrapped); Simen is the Tang-style buildings, Qiaojiao archway, as if the crane lifted the first; from the temple gates to the hall, is a narrow curved corridor, the shape of goose';s neck ; hall equivalent crane body.
Qi Qiao north and south sides and overhanging eaves hall half Pavilion, as Crane wing (the south side of the half-moon booths booths booths have been destroyed north half); both sides of the courtyard after the main hall, a Cooper two, that the crane foot.
Linhe bring up the rear of the original, planted bamboo grove, shaped like a crane end (after the bamboo grove road fill wen he does not exist); before the main hall, and left side as well a crane head.
During Islamic holidays, foreign faith ceremony often gather here today, Crane Temple in Yangzhou and the Arab has become a symbol of friendly exchanges.
The first year of the Southern Song Dynasty monastery Blissful (1275), founder of Islam Mohammed Arab Puha Ding Yi Sun sixteenth to the world when the fundraising mission built by Yangzhou. Phoenix Temple in Hangzhou, Guangzhou pregnant Temple, Quanzhou Kirin famous temple, saying the homes of the four mosques.
South Gate Street in the urban areas, proximity to South Wenhe

Bus 1,5,9,6,7,16, tourism and other public transportation line up.

Tickets

10 yuan