Attration Category
Yangzhou Weather


43F ~ 52F
Cloudy
E at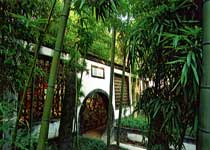 Four Seasons Park in rockery rockery a well-known compact stack. Rockery Stones approach to sub-peaks, the use of different stones, the performance of four seasons landscape, known as "The Four Seasons rockery," such as the historical garden week four seasons, for domestic isolated cases, is the most unique gardens in Yangzhou of a King.
A garden rockery, part of the rock quartet built with Huangshan, there are twists and turns Dengdao hillside, hovering ceiling, which is the Northern School of Rock law; part of the quartet built with the Taihu, Nagareizumi reflection, meandering corner stone in the Southern Law School. The two Stones approach means that the landscape of the north and south were unified in a garden, a garden rockery formUnique style.
Yuxuan Park should be in front of the "should Yuxuan", surrounded by empty windows, panoramic views overlooking the garden, the rear garden to hold mountain building, upstairs, each under seven Ying, Western Union Summer Hill, east Akiyama, east through Yellowstone Road corridor complex rockery, ground floor corridor south wall was covered with Liu Fenghao written "Chuk Yuen Kee" stone.
Route: Tour a garden, there are two routes to go. One is located in Yan Fu Road from the northern gate into the first house after the park for the regular route. The other is from the east off the southern gateway into the street, first house after the park, the new routes.
One of the four famous gardens in China (Beijing Summer PalaceChengde Mountain Resort, Suzhou Humble Administrator';s Garden), was built Jiaqing, Salt Salt was the total Huang Zhijun private garden business. A variety of bamboo garden, bamboo garden owners and especially love that the solid bamboo, a guilty conscience, body straight, section of Ching, a gentleman. Bamboo leaves shaped like "a" word, it is called "a garden."
Traffic
10 East Road, Yangzhou City Yanfu
Car station Tour 1, Tour 2 Road, West Bus Station by 8 can reach. 26 Road to the railway station by Century Lianhua, the circle into the EastDoors along the "guxiang Customs Tour" route to a park.
By car: Enter the city of Yangzhou, by the Yangtze River Road, first Wenchang Road, see Wenchang Pavilion and moved northwards, over Wenhe Road, Yan Fu Road along the eastbound 500 meters. Or along the east along the Grand Canal over to shut off Yanfu Road West Ferries.
Tickets
7:15-18:00
Block 40 yuan, including a park and quasi-mentioned two sites Monastery, 70 years old half price with ID cards, free for children under 1.2 metersFee ,1.2-1.4 m children half fare, student ID half price.
Slender West Lake, a park, any park, the Grand Canal, Daming Temple and the Bonsai Garden 180 per ticket, valid for two days, these spots are sold door.