Attration Category
Nanjing Weather


54F ~ 72F
Cloudy To Overcast
SW at 30km/h To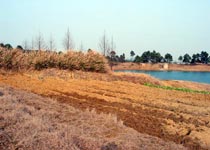 The park covers an area of more than 3,000 acres, and it is rolling mountains, winding hilly, landscape and white, forming a beautiful natural landscape. Dayou Mountain, the main peak has and elevation of 188 meters. It is beautiful scenery, green bamboo and charming scenery.
Zhenru Temple: Many attractions in the region, as really as the most representative temple with an area of more than 100 acres. Golden Buddha temple has an installed 21 meters high, weighing nearly tons, called the East China's largest stone Buddha. Three secluded mountain palace, the majestic strength.
Center of the Main Hall houses the Buddha, Medicine Buddha, Amitabha three statues, both sides of the Eighteen, on the back for the "Island Goddess of Mercy." Dabei palace enshrines the right of the four Qianshouqianyan Bodhisattva statue, before the house is a 13-story, 16 meters high bronze Baoding, the left big wish palace is under construction, the bottom left of the newly completed "Emerald Temple "within the three 2 meters high and more domestic rare white marble Buddha from Burma lay with gifts.
Yu Shan Martyrs: It is the county base for patriotic education, "Tomb of Qing Jie Yuan", "Yu Zhenwu Temple Hill Monument," "sheep leftTomb "and so is the county-level cultural relics protection units. In addition, ancillary services facilities within the scenic area covers an area of 20,000 square meters, "Leisure Village" has a meeting, catering, entertainment and many other features, length of 1 km of the ancient street gives a sense of antiquity.
Wandering Forest Park, located in the middle of Gaochun County, where Confucius was boarded over not only here, is said to Earth Store Bodhisattva Jinqiao Jue Hua Hongyang Buddhism crossed the sea, they were attracted to this Qingshanxiushui to visit the mountain a rest, so called from home Mt.
Transportation
Starting Nanjing: Nanjing Central door or long-distance coach station take the bus Gaochun Bus Station, you can transfer to a local resort Gaochun.
By car: starting from Nanjing, on the airport about 27 km high speed, turn on high speed 46 km rather high. From an exit along the dual high-road driving, about 8 km, turn on the right side Pagoda Road travel 1.3 km, 0.6 km along the road to reach the town of Hing Gaochun.