Attration Category
Zhengzhou Weather


61F ~ 95F
Sunny
W at 30km/h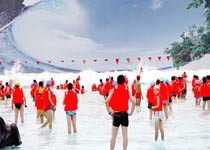 Waves of the Yellow River Valley Beach Mala Bay is the Central Plains emerging class water theme park in Asia, to the mother river of the Yellow River as the background of the Chinese nation, and integration of tourist attractions Fengle farm covers an area of 3 acres.
Bathing facilities in area of 10 square meters, the vacuum created by an international third-generation artificial wave technology, tsunami waves up to three meters, realistic reproduction of "tsunami" surging; are using power-driven technology, natural flow rate of up to 50 m / min 300 m-long circular splendidly River; another Dead Sea Mud Spa experience the fun of the clay body.
Mala Bay beach can be a sense of floating in the bathEast Dead Sea courage; Bay has a fantastic slide Emirates, shaman airship, Ecstasy tunnel exciting beach volleyball; children water the children';s favorite castle; multi-platform game combines the different wave bridge connection, loading web, escape slide Road, water gun, spray and other attractions continue to be discovered.
Tickets
Morning: 9:00 pm to: 21:00.