Attration Category
Zhengzhou Weather


61F ~ 79F
Cloudy
S at 20km/h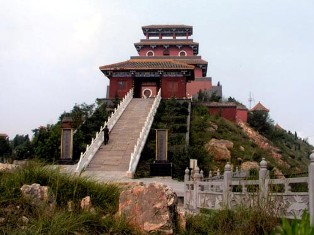 Ancestor of the mountain, the original name with Heights Mountain, is the Songshan Mountains Zhongyue, Xinzheng city in Henan province, 15 kilometers southwest of changxindianzhen territory, an area of about 12 square kilometers, a beautiful, picturesque, the Yellow Emperor and cultural sites all over the mountain . In 2001, as a national federation of patriotism education base. Mountain Heights Yellow Emperor with cultural tourism area is a national AAA class tourist area, is also a national forest park.
Ancestor of the mountain, is a mountain in IbarakiA mountain, formerly known as the wind after the wind after the ridge or top (of the wind after the minister of the Yellow Emperor), the hometown of the Yellow Emperor Xinzheng Hill location, but also now in the Yellow Emperor Huangling global festival held outside the Zuda Dian place.
The main peak of 1160 meters above sea level ridge after the wind from afar, like a Huangdi like: great tall and straight, facial features is completed, a magnificent, people spontaneously produce a tribute. Majestic Emperor built large temples on the east slope of Mt. Mountain peaks rocks, grass flowers, Longtan Waterfall, fog Hoi Ching Lan, all delightful, never forget.

Story:
Numerous documented; geographical center of the activities of the Yellow Emperor in Xinzheng (ancestor of the mountain) with Heights Mountain! "Zhuang Zi Xu no ghosts" set: "Seeing the Yellow Emperor Wei on the mountain with a Benz." Li Tao Yuan in "Waterways "was even more clearly pointed out:" Yellow Emperor Tang with Heights mountain or Yuhong embankments, by the "God Chi map" boy in the canopy, that is, mountains. "" Chuang Tzu "There are a record:" Nineteen years as emperor Huangdi , command line world, wide as the child heard the mountains in the Kongtong,To be found. "Coincidentally, really there is a hill with Mainz Kongtong, a Happy View. That" House of Hunan "carries: Kongtong in Jun state (now Yuzhou) northwest of fifty years, the concept of a Happy, According to legend, the Yellow Emperor practice place. Meanwhile, in his account of Wei River flows to the region Shiyou Xinzheng cited "Kings" Cloud: "or words of the county and therefore, Xiong Hui, the Yellow Emperor are also. "
Traffic
Transportation: Xinzheng car, take the North off 4 high-speed bus directly Zheng Shi 2 km southwest of Xinzheng exports.
Tickets
10 yuan, students 6 yuan.