Attration Category
Xi'an Weather


30F ~ 46F
Sunny To Cloudy
NE at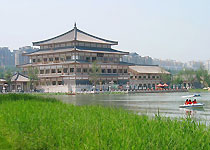 QuJiangChi is a famous historical site in Xi'an,which had had a great scale in Qin dynasty, is a royal garden, and a famous scenic spot in Chang'an city.for representation of the magnificent sights of QuJiangChi, Xi'an government made a large scale construction of recovery in this historical site in recent years. The built QuJiangChi site park integrates history culture protection, ecological garden, landscape scenery, leisure tourism, folk inheritance, art show as an open type city ecological culture park. It was planned and designed by well-known great master of building design ZhangJinQiu academician, covering a total area of 1500 acres, recovering 700 acres pool of Han and Tang dynasty, and recover the humanities landscape pattern of "green forests repeat, green water diffuses" in Qujiang district. The completed QuJiangChi site park,with the surrounding QuJiangHanyao site park, Qin Er Shi imperial tomb site park,Tangcheng site park, form a 1500 acres of urban ecological landscape.

Design descriptions
Through reasonable grasp to the characteristics of light and shadow. In the night,it building an unique scenery of "calamus Turn leaves,willow cross branches, dark turn into the boat,but the birds don't know. Dark even into the deepest place, the jade floor and throne room irregular." which described in a verse of Dufu, In the concrete design, it used afforestation and waterfront lighting, the main scenic spot building lighting as the key point tactics. Using lights by grading and layering, made the whole scenic spot show a spectacular, shade orderly lighting effects in the night.

Environmental protection,safety measures used in the lighting design:
The little size LED flood light(Model:BES-SP) used on the surface of the historical building tiles in the site park,adopt stable voltage and constant current technology,the current won't increase for a short circuit made by one or several other LEDs in the same loop, it should guarantee the constant current fixed for their normal work, and in order to ensure the lifetime of LEDs,make high light output and reduce the LED light decay. High power high brightness LEDs ensure that in 10000 hours light decay less than10% (light output maintain more than 90%), in 50000 hours, light decay less than 30% (light output maintain more than more than 70%). So it's more security and more reliable in using. And compared with traditional light source,it has a firm structure, without fragile parts as tungsten filament and glass shell,and has a high anti-vibration performance, without mercury, lead and other harmful substances, no pollution, green environmental protection.