Attration Category
Xi'an Weather


23F ~ 43F
Cloudy To Sunny
NE at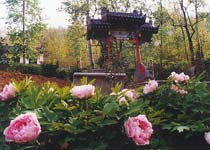 The peony is among the longest-used flowers in ornamental culture and is one of the creature national emblems in China. Along with the plum blossom, it is a traditional floral symbol of China. It is also known as "flower of riches and honor," and is used symbolically in Chinese art.
Peony Garden is located in Hu County, Xi'an Auntie, 10 km south of Auntie springs village wells, located in Zhongnanshan Mountain. There is a spring for three thousand years and does not dry up, called Auntie spring. Quiet location near the temples, scenic spots more spring and summer every year attracts many visitors come to visit. Auntie Spring Peony Garden was built in 1993, is a forest, landscapes, flowers for the integrated forest park, and to watch the main peony.
Auntie Spring Peony Garden area of about 5 square kilometers to the center Quanshan Regardless, the East Lake valley, west valley soap, both surrounded by water. Peony Garden 20 hectares planted with more than four hundred kinds of valuablePeony and herbaceous peony, a total of four million lines. 4 months late each year, Colorful peony garden, contests. Peony Tse, the peony and the plants bloom. Outlook also has a flower garden building, The Peony Pavilion and other buildings, and a dragon, crane, deer, tigers, peony fairy sculpture and other arts.
Peony Garden east Caotang Si Auntie Quan, GAO Guan Falls, west of Suzaku Forest Park, Nanshan Tourism Zone along the ring around the Xianyou Temple, Louguantai, Zhongyang Gong, Cao Tangsi, Cuihuashan, Taiwan and other scenic Kerry afternoon area. About the few friends, during, or fishing, or get water play, or the flowers Tan Chun, or room and board in the small farm house, is very comfortable.

Transportation
1, the Big Wild Goose Pagoda Square by mountains north line 1 (open weekends).
2, by the Xi'an South Terminal (Matilda door) take the Xi'an - Huxian plant bus, an hour to reach Huxian plant, fare seven dollars. Electric power plant can take place in Huxian tricycle (6 yuan / truck, ride up to 4 people), Auntie spring arrival; or take the bus at Huxian Power Plant, 1 per fare, Auntie springs to reach the mouth need to walk ten minutes south.
Admission fee: 30 yuan
Address: Aguquan village, Hu county, Xi'an
Time for appreciation: April 3 - May 28