Attration Category
Shenzhen Weather


63F ~ 77F
Cloudy To Sunny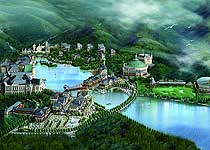 Splendid China is a smaller version of attractions across China, nearly 100 park sites in the territory of China according to the location distribution, the whole park is like a huge map of China, although smaller than the local real precision, but dozens of people in step from the sense of solemn silence within the Ming Tombs to swim poem like Li River landscape painting, from the highest pay their last respects to experience the most magnificent Potala Palace, the Three Gorges steep upright, from the look up to the largest statue of Buddha Leshan Giant Buddha enjoy the longest gallery Dunhuang Mogao.
Separated by a wall with the Splendid China, China Folk Culture Village, brings together 56 national architectural style, a family camp, very chic, each time the village has a free performance of different nationalities and ethnic minority performers are authentic and interpretation traditional style, authentic, down Kenneth Centre Theatre';s "Oriental Costume" at the Phoenix Theatre and "Dancing with Dragon and Phoenix" particularly exciting.
Tips
1, Splendid China, Folk Village, just two spots to buy a ticket, the village where the village folk performances are free, open and close park hours :9:00 - 21: 00 (Splendid China 18: 00 Closed Garden).
2, there are scenic tour, a 20 yuan fare, children half fare.
Folk Village was held in July and August each year Songkran, visitors can see performances, and then participate in splashing water. Remember to bring a change laundry. The site also sells appliances and rain splashClothing.
3, there are many villages have village folk customs show, for free viewing, we recommend that you take in a certain area at the entrance area leaflets, so that you can arrange a reasonable line, do not miss your favorite performances.
Best tour route: Splendid China Folk Village Museum bells Uighur camp yurt Tibetan village customs houses drifting Korean Li Wa Walled Village Miao Dong village Moso Village Large Horse Centre Studio Theatre Phoenix Plaza war
"Ge Jin Dynasty," Showtime 14:00,16:10, clean generation of heroes became well-known prairieXi playback, a forty thousand four hundred thousand of the war to defeat the legendary, realistic interpretation of the Chinese equestrian stunts.
"Oriental Costume" Show Time: 17:00, set national costumes, dance, music and choreography in one large national dress dance poem.
"Dancing with Dragon and Phoenix" Show Time: 19:30 to dance, acrobatics, magic and other artistic means to come together, let you enjoy the magnificent grace of Chinese culture.
"Tianyi Pavilion" restaurant, the largest park in China Folk Culture Village restaurant features cuisine of Yunnan-based, group packages of about 25 yuan per capita consumption,Individual per capita consumption of around 40 yuan.
Traffic
Bus:
From the train station: Take a Road Tour Bus (2 yuan fare, full 5 million), 101 Road (fare 2 yuan, the whole 8 million)
From Airport: Take 327 is accessible to Splendid China
Other :310-315 Link via car, if you come from Lo Wu (the train station, the Lo Wu Control Point) Fukuda (Huanggang) direction of travel, in the "HongBest Group "station walk 100 meters West over bridge, if you head from the south, the direction of travel over Shekou, in the" Splendid China "stop.
Taxi:
Play from the train station about 45 yuan
Taxi from the airport takes about 80
Subway: Take the One line in the "OCT" stop, then take the "D export" out of station
Tickets
Blocktickets120 yuan / person adults, more than 1.4 meters tall and 65 children under the age of visitors
Half-price ticket 60 yuan / person 1.1-1.4 meters tall children 65-69 years old (ID card)
Free admission for children under 1.1 meters tall and 70 years of age or older (ID card)
On card 300 yuan / person admission several times within a year
Performance fees:
Oriental Costume ordinary seats: 15 yuan / person VIP seats: 50 yuan / person
Dragon Dancing Journal of General seats: Free VIP seats: 50 yuan / person
Ge Jin Dynasty Free
Opening hours: 8:00 - 17:300 tour time :2-3 hours