Attration Category
Sanya Weather


68F ~ 84F
Cloudy
NE at 30km/h To 20km/h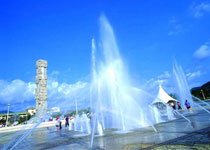 The Sanya Zhongxing Guang Chang (Central Square), which is located at the center of the Yalong Bay.

As the landmark construction and the transportation hub of Yalong Bay, the square is dominated by a totem column and a group of sculptures. The totem column is 26.8 m (87.9 feet) high, on which are carved the four Gods of Wind, Rain, Thunder and Lightning and four auspicious animals: a dragon, a phoenix, a sunbird and a fish. The sculptures around the totem column consist of three circles. In the first circle are sculptures of the Azure Dragon, the White Tiger, the Vermilion Bird and the Black Tortoise representing four seasons, and sculptures of the 24 Solar Terms. The second circle is mainly about eight ancient Chinese myths, such as Pangu Makes the World, Chang'e the Lady in Moon, and Hou Yi the Sun-shooter. The third circle is about natural creatures such as human beings, animals and plants, and eight Chinese gods.
The totem column and the sculptures represent traditional culture, while five sail-like white tents and a great water spring around the square bring a modern touch to the square.