Attration Category
Sanya Weather


68F ~ 84F
Cloudy
NE at 30km/h To 20km/h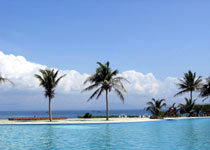 Wuzhizhou Island is located about 30 kilometers northeast of Sanya City. The island is with an irregular butterfly-like shape and a coastline of 5.7 kilometers, covering an area of 1480 square kilometers. As the island is in a tropical marine zone, the climate is temperate and pleasant all the year round. It is an ideal place for vacation, winter swimming as well as entertainment.
Wuzhizhou Island was known as Guqizhou Island in ancient times and the earliest records date from the Qing Dynasty (1644-1911), when a temple was built to commemorate the originator of Chinese characters, Cang Jie. Following the Qing Government's fall from power, the villagers rebuilt the temple to honor the Goddess Mazu, who bestowed good fortune on the local fishermen. From 1949 Wuzhizhou Island became an important strategic defense zone. However, from the 1990s, Wuzhizhou Island began to enjoy a completely new role as a romantic place for holiday and leisure.
Sanya Wuzhizhou Island Holiday Center is a wholly-owned subsidiary of Hainan Seascape Garden International Co., Ltd. Ever since its initial incorporation in 1998, the Holiday Center has received 3.2 million tourists both from home and abroad and achieved extensive recognition around the world due to its advantaged holiday environment and specialized managerial service.

Tips:
1. There are public telephones on the island, and phones in the hotel rooms are available subject to a deposit. Cell phone signals are good in the vacation village, on Sunrise Rock up in the mountains as well as on the nearby seashore.
2. There are outlets on the island where one can rent diving equipment and under-water cameras.
3. In order to avoid sunburn, sun-bloc, hats and sunglasses are necessary. Summer clothes are suitable at most times as the annual average temperature is 25C-30C. But from January to March, long-sleeved T-shirts or similar should be taken as the temperatures in the morning and evening are low.
4. It is about 38km (23.6 miles) from the Sanya Fenghuang (Phoenix) International Airport (SYX) to Wuzhizhou Wharf. It takes just over fifty minutes by taxi.
5. As there is no direct bus available from Sanya city center to Wuzhizhou Wharf, the best options are a taxi or a self-drive hire car to the Wuzhizhou Wharf. It takes about CNY50 for a one-way trip and CNY150-CNY200 for a round trip. There are ferries from 7:40 am to 6:00 pm every 20 minutes to the island. It takes 10 minutes to reach the island by ferry.
6. As well as the Wuzhizhou Wharf, the Summer Wharf with its two berths is also used to land at the island. It is open from March each year depending upon the change of seasons instead of the Wuzhizhou Wharf.

Admission Fee: CNY 123 (Round trip tickets for boat are included

Reminded
Slightly more expensive room and board on the island, visitors can return the same day, but a good time to arrange, on the last time a group of islands the ship at 17:00 (with the day';s weather conditions.)
User Travels
Supplementary support version of the actual continents centipede (with photo)

Transportation
Wuzhizhou Sanya City is located in the northern part of Begonia Bay. 40 km away from Sanya city, Sanya Phoenix International Airport 38 kilometers, close to highway east of Hainan, quick and convenient transportation.

Travel
1, can take a taxi to the centipede support Chau Pier, one-way toll (starting from the Bay) about 50 yuan; Should chartered from (Sanya to Wuzhizhou), about 150 -200 dollars.
2 Chau Pier and the support from centipede Wuzhizhou marine traffic:
8:00 am sailing, 16:00 (with the day';s weather conditions) the last one on board the island, on the last one at 17:00 hours the ship Islands (with the day';s weather conditions.) Every 30 minutes ferry, between the land and Wuzhizhou and Hainan Island, the team pick open.

Since Directions References
1, Sanya - Wuzhizhou: Field independence Old East Bay Highway intersection branch (via the original junction forward Qingtian village about 10 minutes) roadside signs "Wuzhizhou" turn right about ten minutes to reach centipede support Chau Pier 10-minute ride Luxury cruise ship arrived in the island.
2, Haikou - Wuzhizhou: Eastern Highway junction Fujihashi Eastern Highway turn away the old highway sign by Lin Wangzhen "Wuzhizhou", turn left about ten minutes centipede support Chau Terminal Take 10 minutes luxury cruise ship arrived in the island.