Attration Category
Sanya Weather


72F ~ 86F
Cloudy
E at 20km/h To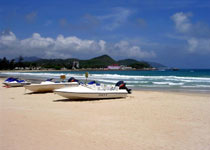 East China Sea is surrounded by mountains, one side the sea, surrounded by rows of green coconut beach, the water temperature in winter is about 18-22 . Seaside resort area complete tourist facilities, has a different style hotel, a large waterfront plaza, tourist submarines, diving and diving base year for a variety of water sports and beach sports. See sports and activities. Dadonghai is a wonderful outdoor swimming and bathing place. At the thought of vernal sunshine and soft sea breezes you will be agreeably dissolved into the blue sky and seawater.
Dadonghai Beach is Located just 2 KM from Downtown Sanya, Dadonghai Beach is a combination of city life and beach pleasure. Local restaurants, bars, shopping malls & supermarkets are just within walking distance from all the resorts and hotels. Though it is close to downtown, you will not feel the hustle and bustle of city life if you stay in one of the beach resorts on Dadonghai Beach.

Dining:
Do not worry about living in the East China Sea food, seafood, play to the Spring Garden Plaza, 15 yuan, suffered the seafood is very convenient. In the hotel there are all kinds of barbecue buffet, and Wang Hai Bar, BBQ grill Intime';s most famous here. See Sanya food.
Accommodation: Moderate consumption of the East China Sea, from family hotels to luxury resorts are in place, luxury hotel, the best location Intime, relying on the Gulf coastal line along with Deluxe, pearl, Shanhaitian. Most family hotel located in the Palace and the Blue Ocean Garden Ruihai two quarters, the other is the red roof of the west coast resort, Teana sea view apartments. Basically the price of 100 yuan. See Sanya accommodation.
Distribution of the East China Sea hotels, family hotels map

User Travels:
Road - the East China Sea, Sanya 5 days 4 nights, free exercise of brief
East China Sea and Sanya articles --- I have a date
Sanya East China Sea to eat, live, play

Raiders traffic
Bus:
1, the new double-decker tour bus state line (the upper open shelf, the lower air-conditioning):
Course: Yalong Bay - East China Sea - Sanya Bay - West Island Ferry - ends of the earth. Half an hour, as early as 7:00 am bus departure from the Bay, around 19:00 last train back from the ends of the earth, travel about 70 minutes to tour speed, full fare of 10 yuan (by road charges).
2, 4-way in the train station, take the 15 bus at the Yalong Bay, in the city, take bus 202 or 204 can be to the East China Sea.

Taxi:
Taxi ride from Sanya bus station to the East China Sea is about 10 yuan; from Shanhaitian, Yu Huayuan Intime play to 10 yuan; from large to small East China Sea East China Sea,Luhuitou, cost 20 yuan.