Attration Category
Sanya Weather


68F ~ 84F
Cloudy
NE at 30km/h To 20km/h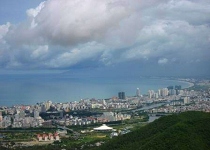 Ridge is the highest peak in Sanya City of Phoenix is the only city full view of Sanya Bay, the city where architecture and urban landscape. Long-term perspective, Sanya';s mountains, sea, city, days a glance. Watch the sunset is not a good flavor. Sunset, sunsets drench the lush mountains, shrouded in the Sanya city over and watch the setting sun slowly melt into the red sea, very spectacular.
Ridge Park is located in downtown Phoenix location, and the Phoenix Ridge RoadOral phase, in the "beautiful crown," the opposite. Sanya Phoenix Ridge Park is the green lung, the park forest is the source of species in Sanya, walk forest trails, experience blowing cool breath of fresh air, very laid back.
Park The main attractions are: air passenger ropeway, the Green Dragon wind pool, viewing bridge, 360 degree cantilever-type tourism corridor, "Bainiaozhaofeng" sculpture and "eachother" sculpture.
Traffic& Ridge Park is located in Sanya City of Phoenix, Phoenix Road, east side, opposite the beautiful crown. Pricing starts at 5 yuan urban taxi to reach the park entrance. 10,20 can also take the bus to get off the international landscape.

Tickets
Opening hours:
Wednesday - Monday ,9:00-22: 00, ticket time :9:00-21: 00; Tuesday ,9:00-17: 00 (cable maintenance), ticketing time :9:00-16: 00.
Tickets:
50, cable 100 (round trip).