Attration Category
Sanya Weather


68F ~ 84F
Cloudy
NE at 30km/h To 20km/h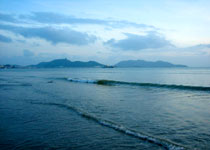 Sanya Bay is one of the five major bays in Sanya, Hainan Province, China. It has a 22km beach. The climate is warm and sunny all year around.
The man-made resort Phoenix Island is currently under construction in the bay.
The bay is surrounded by beautiful tropical scenery with a boundless sea view. The crystal clear blue sea stretches to the edge of the sky, while the waves lap the soft white sand. Across the sea, you will see two adjacent islands: Western Hawksbill Island and Eastern Hawksbill Island (commonly know as Western Island and Eastern Island). The Eastern Island is a garrison island with strict safety measures while the Western Island is open to the public. If you are interested in angling, you can reach the Western Island by motorboat as it has the biggest and best angling club of Sanya. There are many fish and you will return with great success. Furthermore, the island is famous for its limpid sea water and various benthoses.

Transportation:
It takes only 5 minutes driving from Sanya Phoenix International Airport (SYX) directly to Sanya Bay;
You can also take a taxi with a fare of CNY8 or bus No.206 from Sanya city center to Sanya Bay;
Sightseeing bus (30 minutes once) in Asian Dragon Bay can take you to Sanya Bay in 50 minutes.