Panjin Weather


52F ~ 75F
Sunny To Cloudy
SW at 40km/h To 30km/h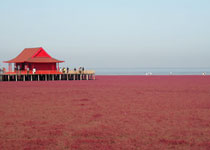 Panjin Red Beach in Panjin City Dawa Zhao circle within the Township, about 23 km from Panjin, for the state 4A level scenic spots. Red Beach in Panjin wetland eco-tourism attractions are mainly for the Red Beach landscape, reed marshes. Panjin Red Beach Scenic Area as a whole is located in Panjin reed sea 120 million acres of wetlands. Where wetlands are the most southern limit of breeding red-crowned crane is the world';s rare birds, the main breeding Gull. Habitat of the vast sea of ...
View Detail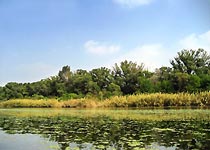 Ding Xiang, eco-tourism resort located in the new Xinglongtai District, Panjin City, Street, for the state 4A level scenic spots, the provincial wetland forest park. Resort about 22 km from Panjin city, set tours, sightseeing, business, leisure and holiday in one. Ding Xiang, a large eco-tourism resort area of reeds, woodland, rivers, marshes, swamps and rivers and rice fields constitute the northern coastal wetland natural landscape, displaying the characteristics of northern rivers and lakes ...
View Detail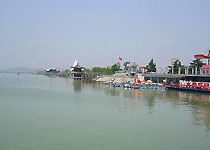 Lakeside Park is located Shuangtaizi District, Panjin City, southwest of the state 3A class tourist attractions. Lakeside Park in 1986 by the Beijing Landscape Planning and Design Institute, a total of 12 functional areas, such as Cape town park, amusement parks, recreational parks, zoos and so on. Park, oval-shaped lake, was lying low trend east to the west, beautiful natural scenery. Traffic Panjin city bus to take 1,2,7,11 Experimental Primary School and get off.
View Detail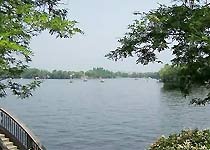 ZTE Park, located in Panjin City Xinglong station area, the connection Shuangtaizi District Jia village, west of Taishan Road, east two-Hing Road, to be at the Panjin city center, for the state 3A class tourist attractions. ZTE park is divided into "ZTE Tianchi Palace" and "Amusement Park" two parts. ZTE Heavenly Lake Palace is a collection of leisure, a sauna, in the Western, shopping, medical, billiards, movies, supermarkets as one of the major recreational center, first floor leisure room, ...
View Detail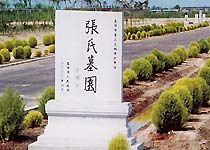 Zhang cemetery is located in Panjin City, Liaoning Province, Dongfeng Town, Dawa County within the leaf village is the patriotic general Zhang Xueliang';s ancestral graves, and Chang Zhang Yonggui emperor, ancestor Zhang hair, grandfather Zhang money, two uncles are buried in the Chang Fu. Zhang cemetery covers an area of about 1.6 million square meters, garden doors left and right trees are "the consequence of lying Swiss side, the later the eternal hero" of the granite stone. Park holds his ...
View Detail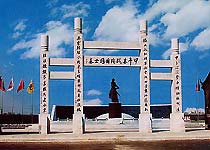 The end of the Sino-Japanese War Jiawu martyred soldiers tomb is located in Panjin City, Tianzhuangtai Dawa town, covers an area of about 10,000 square meters, is to pay homage to martyred soldiers in the Sino-Japanese War of the Qing built a memorial area, the Department of Sino-Japanese Jiawu site group of the late war an important part of the building. Although the Sino-Japanese War of decay due to the Qing court and lost, but the last in a marine situation Jiawu - Tianzhuangtai battle, but ...
View Detail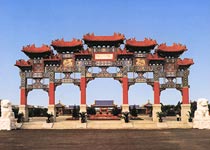 Beilin is located in Liaohe Shuangtaizi District, Panjin City, built in 1999, is a collection of ancient treasure house of calligraphic art essence. Beilin covers an area of 180,000 square meters, Liaohe, displaying rich stone, on the pottery from the Neolithic symbols, down to the quality of contemporary calligraphy, a total of more than 2,000 Kebei pass. This engraved pottery, Oracle, inscriptions, stone drum, silk, Jane books and Hanbei, Weibei so fully demonstrated since the Books of Han ...
View Detail