Attration Category
Lishui Weather


61F ~ 70F
Light Rain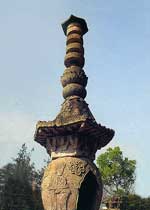 It is located in the southwestern corner of the city. It is built near the river and very delicate. From Song, Yuan, Ming and Qing, the Wanxiang building, Chongfu Temple, Yilan Pavilion, Yanyu Building, Daguan Pavilion, Dongtian Building and so on were built in succession. The trails are detour, the ancient trees touches the sky, the pavilions are scattered the meantime, so called "Hole Sky Misty Rain".
It became a park in 1979, and built martyr stele, Grand View Pavilion, Riverwatching Pavilion, Pavilion in Misty Rain, Tak Yuet Lau, Lovelmm_aoui and so on.
Lingjiusi Tower: Located on the Wanxiang Mountain. There are four towers on the Wanxiang Mountain, and marked the numbers from south to north in proper order. Its appearance and structure are much the same.
The No.1, 2, 4 Tower are demaged, but the No.3 is less integrity. Originally, they are stayed on the Lingjiu Mountain from 10km in the eastern of Lishui City. In 1959, they ever moved to Xi Mountain and moved this lacation in 1980.
The connects tall of the No.3 Tower is 4.2m and the height of the tower is 2m. The full tower is cosisted of tower footing, tower body and tower top. The tower footing is hexagon and the tower body is oval, it is caved lion, lotus, figure of Buddha and so on.

Ticket: Free