Attration Category
Lishui Weather


61F ~ 70F
Light Rain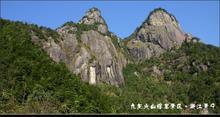 Jiulongwan Lava Area is a park with slag geology, is located in the Xinsi Village Dashun Town, the northeastern of Jingning County, and is bordered on Liandu District Lishui.
Jinglongwan Lava Area is formed in Jurassic Period. The park is consisted of stone general, stone Avalokiteshvara and stone peak. The geological relics and landscape are centralized in Shidan Bay, Zhoushan, mountain, sandpit and flat basin. In the area, its terrain is high and precipitous, and is carved up mightily.
The landscapes in the area, like stone general, fairy flowers, meeting old man, stone horse, stone peak, stone egg and so on are very raity. The natural landscape and human landscape are close integration.