Kaiping Attractions - All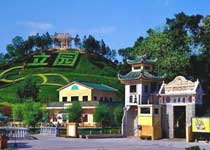 Li Garden, located in Kaiping City, Guangdong Province town Tangkou town justice, sitting west to east, covering an area of approximately 11,014.99 square meters, is a national 4A level scenic spots. It is Mr. Xie Weili Tong Town of Overseas Chinese in the twentieth century, built 20 years back, which lasted ten years, 25 years Republic of China (1936) initially built. Li Garden Chinese garden charm both, but also absorb the Western European and American architectural ambience, with its clever ...
View Detail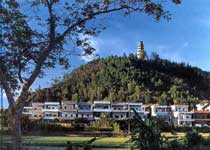 Kaiyuan Tower and Gold Hill Court is located in Changsha House Gang Ma (also known as Tower Hill). New Century tower which 7 layers, covers an area of 49.1 square meters, was built before 16 years of Qianlong (1751), formerly known as "Wen dry clay lump" tower. Nanxi County in Sichuan Province, was reportedly show leaf weight to any magistrate in Kaiping, Kaiping County, see the culture of fashion, imperial insignificant, the initiative will be built on top of the horse, "the text" column ("" ...
View Detail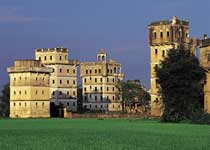 Kaiping Watchtowers in Kaiping City, Guangdong Province, is a special type of vernacular architecture is a set of defense, residential and Western architectural art in one of the multi-tower architecture. According to existing evidence, Kaiping Watchtowers at the latest during the Ming period (16th century) have produced, to the late 19th and early 20th century developed into the performance of overseas Chinese history, social forms and cultural traditions of a unique group of architectural ...
View Detail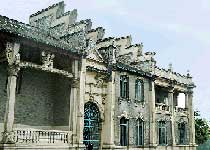 The most famous ancient shrine in Kaiping, China';s construction craftsmen reference to the style of Western architecture designed and built their own, a product of cultural exchanges between Chinese and Western architecture. Converse Xianggong Temple, also known as Napa Valley, was built before 32 years Guangxu (1906), pp 3 years (1914) completed. Kaiping, Taishan name more than two ethnic memory of their ancestors and the construction of the Northern Song Dynasty Prime Minister Yu Jing by the ...
View Detail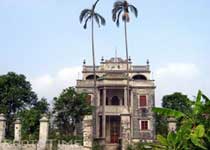 Chikan Village is located in the town of Kaiping, Canada, formerly known as "Yaohua Square", was founded in 1923, the village constituted by the eleven buildings, including five House, four buildings, a watchtower, a club. Five House are: Lu Jun, Ann House, Yiu Tung House residence, Spring House, Yu-Lu; four floor are: Howard House, the National House Building, National Root House, spring, such as floor; a watchtower is: d ho floor. Yaohua Canada Square, originally called the village, all ...
View Detail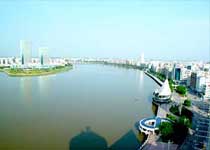 Peacock Lake, also known as "Big River Reservoir", is located northwest of Kaiping City, 38 km from the city, is an artificial lake. 1958 construction, completed in 1960, Jiangmen City, the third largest reservoir, with irrigation, waterlogging prevention, power generation, water supply, farming, afforestation and other features. Peacock lake surrounded by mountains, trees; lake bright and clean as a mirror, boundless expanse of blue; mountains in the lake, the lake mountains, man talked about ...
View Detail
Liang Liang Jinshan District Jinshan Tourism Scenic Area is located in Kaiping City Jinshan Chassi suburb south of the beam, the main body of the beam Jinshan Park, in an area of about 1,000 acres of green area of 800 acres. The whole tourist area hills, lush, and the excavation of a 16,500 square meters of artificial lakes, beautiful scenery. There is also another resort in the east, both comfortable and luxurious rooms, European-style villas have separate, set food, housing, entertainment and ...
View Detail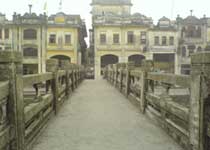 Chikan ancient Chinese and Western architectural elements in order, honest feelings known folk far and near, especially in the West breakwater unique style the most famous ancient buildings. This nearly 400-meter-long shop-style buildings, is of Chinese and Western architectural styles, from the early immigrants in Europe and America and other places overseas, Chikan, architectural drawings brought back from abroad, the integration of local architecture in Kaiping, built here. These buildings ...
View Detail