Attration Category
Kaifeng Weather


73F ~ 81F
Light Rain
N at 20km/h To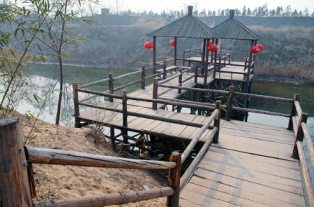 Long live the Forest Resort is located outside the ancient city of Kaifeng, North West, South including the ancient city walls, north of Tokyo Boulevard, an area of 600 mu. This hilly, tree trees, ideal for people of leisure resort.
Long live the mountain was originally of a famous Song Dynasty imperial garden in Tokyo, governance and seven years (1117) began the construction, which lasted six set out in Vision and four years. Therefore, capital of the Burgundy Hill is located in the position, called the Gen Yue, also known as Shou, Shou Yue, because the main entrance of Gen Yang Yue Hua (or Huayang), so called Yang Palace. Song, Long live the hill around the vertical and horizontal ten li, the main peak of 90 meters high. That year, long live the mountain reservoirs and artificial beauty of natural landscape in one of the United States, including the absolute world, including past and present of victory, set garden architecture in ancient China the culmination of north and south, the magnificent blend of Chinese famous mountains and rivers, steep, Qixiu, beautiful, Chang Kuang Zhu characteristics, becoming a microcosm of the national landscape spectacle, called the world';s a must.
Long live the Shan mountain waterfall, the male risk Qixiu, landscaping, throughout the whole park. People into its internal, such as into a fairyland. Huizong has a "Gen Yue Ji" Long live the mountains of praiseKing. He took the hill compared with the National Scenic Spots complacent, said: "roof, Wild Goose, Phoenix, Lu Fu of the Kiwi, two River, Three Gorges, the Kuang Yunmeng finishes, four of the far and differ only good at one of the United States, If this mountain and the package is not listed, and they must win. "Song, Long live the mountain or a large botanical garden, the park planted all kinds of treasure wood, exquisite, Yi Cao, bamboo, medicinal herbs and food crops and so on, nothing is Yes, there are only tens of thousands of pine trees.
Long live the hill is a large zoo, garden, pool Quartet tens of thousands of rare birds and animals, only there are thousands of big deer head, theCountless species of birds. According to records, when Huizong Yu Shan, Wan-ming birds flying group, called the "Long live birds welcome Swiss mountain driving." Long live the Shandong make Fengqiu doors, sky wave west door, north across the old city, north of the King will include into the Longjiang, a Northern Song Dynasty Kaifeng, Tokyo';s largest and most beautiful imperial garden, was a garden which the world can not match her.
Traffic
Take 1,15,20,30 bus.
8.