Attration Category
Huangshan Weather


55F ~ 73F
Cloudy
NE at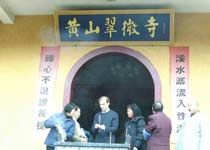 Cuiwei Temple is the o­nly temple where monks live in, it beneath the Cuiwei Peak of Huangshan.
In the third year of Zhonghe in Tang Dynasty (883), an ancient Indian monk came to Huangshan from Sichuan. Since he weaved the sackcloth for himself, survived by bracken fern and wild fruit, people called him Sackcloth Monk and built a temple for him which was named "Sackcloth Bodhimandala". In 947, Lijing bestowed it another name "Cuiwei Temple". Around the temple, there are "Sackcloth Cave", "Sackcloth Platform", "Xizhang Spring", "Sackcloth Pagoda" and so o­n.
Huangshan is beautiful all year round. In spring (March to May), all flowers blossom, pines turn green and the birds sing beautifully. Summer (June-August) is the best time to appreciate the pines and prevent sunstroke. In autumn (September to November), tourists can see the pines, rocks, maples and chrysanthemum. In winter tourists could admire the snow and the rimed trees. When the weather is fine, you could view the grotesque rocks, when it is cloudy, you can appreciate the changing clouds, when it rains, you could see the springs and waterfalls, when it snows, you could see the crystal tree and Rimed tree, when it is windy, you could listen to the sound made by the swinging pines. You could be satisfied in any kind of weather.