Attration Category
Guangzhou Weather


55F ~ 68F
Overcast To Moderate Rain
20km/h To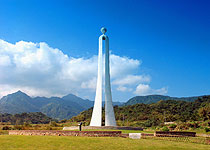 Tropic of Cancer landmark tower in Guangzhou is located in Conghua City, 42 km from Guangzhou and it is the world's highest altitude landmark tower of Tropic of Cancer. The Tower covers an area of 1024 square meters, 23.5 meters high with rocket type. In addition, the main part of the Tower is made of mixed structure of granite.
Tower bottom is spherical, in the middle of Granite paving, carved dome profile, diameter 4 cm brass columns embedded in the center point. Top for stainless steel tube supporting hole with a diameter of 120 m, for the Sun direct calibration. Annual summer solstice at noon today (12:26), Sun will direct the ball in the hole, Tower bottom spot projected onto the sphere on the copper cylinder, not shadow at this time.
This tower was completed on December 17, 1985 opening of the 1986 summer solstice. Standing stones, the Guangzhou Municipal Government Chronicle, indicating that the dividing line here for the tropical and north temperate zone. Have been built and the Tropic of Cancer Tower Park, a classroom observation point and tourist attractions.
Tropic of Cancer, Guangzhou landmark tower at the maximum height of from Conghua Pacific field, Yau Ma Tei Po Tsuen six decades slopes, is the world's Tropic of Cancer and South, the largest of the landmark tower.