Attration Category
Guangzhou Weather


50F ~ 73F
Sunny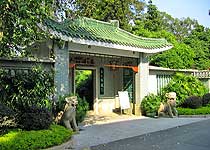 The Guangzhou Orchid Garden was rebuilt from a botanical garden in 1957 and covers an area of 3.9 hectares. It is located near the western entrance to the Yuexiu Park and features more than 200 species of orchids. In addition to orchids, there are also over 300 species of other plants. Unfortunately, most of the plants were not in bloom when I visited as it was the end of March. However, the garden is still very pleasant to visit as it has winding paths, arched stone bridges and willow-fringed pools.
The Orchid Garden provides an oasis of calm; you'd never think you were in the middle of a huge Chinese city. Guangzhou or Canton Orchid Garden is, as its name suggests, a small garden that specializes in orchids. There are three greenhouses that which house 200 varieties of orchids including cattleya, cybidium, dendrobium, oncidium, and vanda. In addition to orchids, there is also the beautiful flora that decorate the rocks and paths of the garden. Visit the different pavilions like the Hall of Exquisite Fragrance or the Aromatic Flowers Garden, the landscaped gardens are very interesting with ponds, sculptures, pagodas and other plants such as bamboo scattered around. The price of entry includes a voucher for a pot of tea. I enjoyed sitting under the cover of the teahouse listening to the rain pouring down.

Traffic:5, 6, 7, 10, 21, 24, 33, 58, 63, 101, 103 buses. The subway yuexiu park stop north to arrive at the 100 meters.
Open time: 8:00-18:00
Tickets:20 ~ 30 yuan
Fare: 5 yuan tea