Attration Category
Guangyuan Weather


41F ~ 59F
Cloudy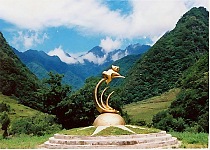 The hometown of giant pandas, Tangjiahe National Nature Reserve is a beautiful scenery, exotic rare magic all over the world. Qingchuan in Guangyuan City, 80 kilometers north of the north junction of Gansu Province, which borders West and Pingwu County of Mianyang City, Shandong Province is located in Min Mountains, the northern section of Longmen Gorge area.
Tangjiahe beautiful, there are over 2400 kinds of plants, of which more than 900 rare plants, such as arches, silver fir, money tree, and these in every season, allTheir own unique way, showing their ability to decorate the nature. Spring and summer season, fill the fields of flowers and herbs, aromatic Tuyan war. One to fall, red maple, yellow ginkgo, green pines and cypresses ... ... the whole colorful Tangjiahe infected. In the winter, but also a snowy scene.
Tang River is the main habitat of Giant Pandas Minshan important part, was designated as the World Wildlife Fund Class A nature reserve is the protection of global biodiversity hot spots. Here generations of breeding giant pandas, the existing 60, a tour at any time can see the panda';s mix, and David also have the opportunity to take pictures. In addition, you can see a wide range of strange birds and beasts, such as golden monkey, tiger, leopard, black bear, takin, Chinese species of sand ducks, golden eagles, red tail green pheasant and other national key protected animal.
There are many wonderful Tangjiahe legends and the reality of the natural landscape, fascinating. Motianling north, high mountains over 3800 meters, on top of a green lake in color, about six acres of water, Hai Zi bottomless, dry year round.According to the locals, where the loud noise, it will instantly come rain, hail or even begin with. The natural beauty for many years by people of color add a lot of magic, the locals sent to the mountains in drought prompting to firing, rain save Wo, every time to achieve the goal.
Tips:
December each year to next February can watch the golden monkey, giant panda; March to April can watch the rhododendron; 5August can enjoy the alpine meadow grassland appeal board, and watch the takin; July to September is a summer resort; September to next February in the valley and the black bear watching takin.
Accommodation
There Tangjiahe scenic farm music, country hotel, Mao Hong Dam visitor reception center. Farm Fun Farm 20-120 per month. Mao Hong Dam visitor reception center to two-star gold standard specially designated hotels and other tourist reception Panda Mountain ResortBuilding 3, and another 25 sets of tents hotel.
Transport
by car
River Gorge Road and Po Lun on the railway into the town, there are 212 in this connection. Along State Road 212 (Sichuan and Gansu above) driving 60 kilometers to the north, to convey to the sand Zhou Zhen west of Highway 105 along the river by Artemisia Hui Township Green River, further north along the Green Line Fei River town 12 kilometers of protected areas is to TangjiaheThe North ditch. In addition, from Chengdu by Shifang, Mianzhu, County, in north Nanba Tangjiahe line to the town reduce the hundreds of kilometers away, and the County';s road from Chengdu to have better, but this line is only to facilitate travelers with a car, because in terms of Ping Wu, or North River, two counties to Tangjiahe not many cars.
Tickets are
55 yuan