Attration Category
Anqing Weather


55F ~ 63F
Cloudy
N at 20km/h To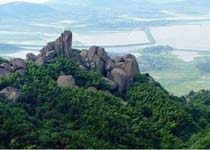 Longshan by small rugged rocks, the shape of the winding if the dragon is named. Divided into five scenic spots, there are more than fifty attractions. Major scenic spots include:
Leading peaks: The main attractions are the view of Japan and Taiwan, Bai drunkenness, champion pen, leading peak, one thousand dong (within the sub-roof, a maze, to Cave), spread upward green ladder, then Xianqiao, scissors and other cutting cloud.
Thousand Deer Cave: The main attractions are the boulder Vision Jiang, open Sendai, magpie hop stone, the scholar at school, seven-step ladder board, million deer-dong, poly Sin Temple, sent cents vessels.
Regression Longshan: The main attractions are the dragon nest, open Xuan Shi, sunset cliffs, fish, Sheung Shui, bells and drums stone. Moon MountainArea: attractions lotus pedestal, worship by the stone, asked Gua stone, wooden fish stone, fairy bed, a small Jade Pool, thunder stone, wind stone. Longmen Gorge Scenic: Park attractions are double lines, first Chin, rabbit park ranger, Kim Li Yuelong Men, fairy photo Linghua, peacock Tingquan, Crouching Tiger, with the door, chicks toddler, jade stone clam, God refers to the peak and so on.
Small Longshan Scenic also known as "Shan Feng Shui", the competition between groups lifelike stone "beasts Park" bring visitors into the fascinating story of a silent and mysterious. Assembly of Immortals party match made in heaven, "Taiping" in Woodman';s magical realm of Fairy.
Small Yongsan Walking Tour Map
Small Longshan Scenic convenient traffic, 24 km away from National Road 206 from Anqing airport 20 km, 26 km from Anqing Yangtze River port, 20 kilometers away from Shanghai-Chengdu Expressway, located in Huangshan, Taiping Lake, Jiuhuashan, Tianzhu Mountain, Lushan Mountain, and other famous an important node of gold on the tourist routes.