Attration Category
Nanjing Weather


32F ~ 46F
Overcast
N at 30km/h To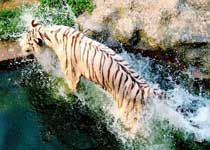 Nanjing Hongshan Forest Zoo is located in the north of Nanjing and close to Nanjing Railway Station. Occupied 93 hectares, the zoo opened to public in September 1998 and is covered by trees and green land.
The zoo is popular place for locals but many expats think that the cages for animals are too small that animals frantically pace back and forth. Compared with its large plot of land, it should be possible for the zoo administration to expand the living spaces of the animals. Not many signs are in English.
Besides the subar animal living conditions, the signs are rarely in English. Strangely, the only signs that are written in fluent English are written only in English and say "Do not feed or tease animals". Perhaps these signs are an attempt to make English-speaking visitors think the zoo actually puts effort into restricting uneducated patrons from throwing fruit and bottles at or to the animals. The signs are actually the 2nd most entertaining part of this zoo. "Please cherish life" next to the tiger cage takes the cake.

Fee:30 Yuan/ticket
Fee:30 Yuan/ticket
Operation:7:30 - 16:30
Route:For east entrance: Take Bus No. 22, 24, 40, 66, 74; For North entrance: Take Bus No. 8, 30, 35, 54, 64, 72, 77, or Tourist Bus No. 3, all to the northern entrance; Bus No. 22, 24, 40, 66, all to the eastern entrance Operation: 7:30 - 16:30