Attration Category
Nanjing Weather


32F ~ 46F
Overcast
N at 30km/h To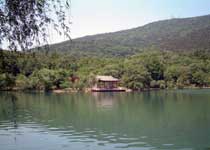 Purple Cloud Lake is an ideal spot to spend an afternoon relaxing outdoors. Not suprisingly, "No Swim" signs lining the edge of the lake are no deterrence to many locals that enjoy the waters. That being said, it should be known that many people have drowned in the lake's deep waters.
The Zixia Lake is situated to the west of Sun Yatsen's Mausoleum and is about two thirds of the way up the mountain. This is a very pleasant little area consisting of pathways, green pines, red maples, picnic spots and a lovely lake where people enjoy swimming in during the summer months. Locals and foreigners come to this secluded and peaceful picnic spot to cool off and get away from the city.
Along the scenic belt around the lake, you can enjoy the morning glory in Lianxin island. There is a temple called "Dingling temple", a famous politician and litterateur Wanganshi, stroll by the ancient city wall and walk o-n the Ten-Mile-Dyke. You can also have a good time in the Water Paradise or relax yourself in the natural Metasequoia Oxygen Bar.