Attration Category
Dalian Weather


63F ~ 73F
Cloudy
E at 30km/h To 20km/h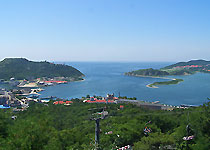 Lushun is located at the south edge of the Liaodong Peninsula, it occupis the west end of Dalian City. It is surrounded by sea on three sides, and also known as 'Port Arthur'. It is a beautiful tourist city zone with a long history.
It was known as Shizikou (Lion Port) which was of strategic military importance from the Eastern Jin Dynasty (317-420) up until the Liao Dynasty (916-1125). It was during the Ming Dynasty that it was given its present name 'Lushun', which expresses a wish for 'plain sailing and a favorable voyage.' In 1894 during the Sino-Japanese War the Japanese army captured Lushun and massacred many of its people. The area suffered again in 1904 when it became a major battlefield during the Russo-Japanese War. Lushun then endured Japanese rule for more than 40 years following the surrender of the Russian forces. It was not until the Soviet Union disarmed them in 1945, that Lushun was returned to motherland once more.

Through half a century, it came to be an "open air museum of historical and cultural scenery". As being rich in natural resources, Lushun has become a National Key Scenic Spot, National Nature Protection Area, and National Forest Park by virtue of its now famous attractions.