Attration Category
Zhuhai Weather


79F ~ 88F
Showers To Moderate Rain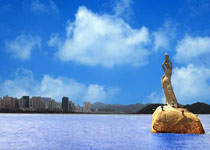 Zhuhai is a beautiful seaside city. The statue of fisher girl has become the symbol of Zhuhai, which located at the scenic Xianglu Bay.
Fisher girl is very beautiful with a little shy, she stands at the charming Xianglu Bay in an elegant pose, and raising a bright pearl with both hands high in the air, symbolizes Zhuhai's brightness.The statue was designed by a famous chinese sculptor, Panhe. The granite with 8.7 meters high and 10 tons in weight.
In the legend, the fairy maiden was so fond of the beautiful scenery of Xianglu Bay that she disguised herself as a local fisher girl to enjoy the life and scenery here. She weaving nets, searching pearls and support her life there as common fisher ladies. She was kind, clever and ready to help villagers with her knowledge and magical power, so she was loved by people there.
She encountered a young and honest fisherman Haipeng and fell in love with him. They lived a rather happy life for a period until a short and devil man abetted him to take off the bracelet on the fisher girl's hand. The girl told him the truth that she was the daughter of the South Sea Dragon king; the bracelets were given by the eight mistresses based on her father's order to avoid her escape. If one of bracelet removed from her hand, she would die.
Haipeng did not believe the words of the fisher girl and turned to leave. The girl took off the bracelet suddenly and fiercely to show her real love toward Haipeng and died immediately. The man was touched and regretted, with cries and being compunctious all the day long.
An Immortal named Jiuzhou Elder was moved by their love and helped the young man resuscitate the girl. They offered this huge precious pearl to their benefactor during their marriage ceremony as a token of their appreciation for his kindness.

Admission: Free
Opening hours: 09:00-21:00
How to get there: No.9, 99 Sightseeting Bus