Attration Category
Hangzhou Weather


73F ~ 93F
Cloudy To Light Rain
E at 30km/h To 20km/h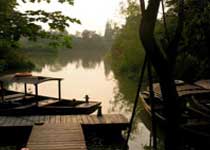 Situated in the western part of Hangzhou, less than 5km from West Lake, Xixi National Wetland Park is a rare urban wetland. With rich ecological resources, simple natural landscape and profound culture, Xixi is known as one of the Three "Xi's" along with Xihu (West Lake) and Xiling (the Seal Engravers' Society). It is the first and only wetland park in China combining urban life, farming and culture. Xixi has not only broad open views, but also a variety of water views. Warm and humid, the area enjoys a comfortable climate featuring abundant precipitation and four distinct seasons.
Three Causeway and Ten Sights
The natural and human landscape in Xixi are grouped into three causeways and ten sights: The three causeways are Causeway Fu, Causeway Lu and Causeway Shou, as in Chinese, the three words fu, lu and shou carry the meaning of fortune, prosperity and longevity. Causeway Fu is 2,300m long and 7m wide, stretching through the park from south to north. Across the bank span six bridges with the Chinese character "fu". Causeway Lu is 1,600m long and 7m wide, stretching through the core reserve area from west to east. It connects the ecological arboretum with the major scientific research project of the wetland and serves as an ecological bank. With a total length of 3,600m and a width of 4.5m, Causeway Shou is the longest of the three, stretching from south to north. Crisscrossing waterways and ancient trees form an ecological landscape.
The ten sights are Qiuxue Hut, the best scenery of Xixi and the sight that can be reached by boat only; Water Mirroring Red Persimmons; Exhibition of Dragon Boat Culture; Lotus Flower Eco-Reserve Area, the main area for bird-watching; Charm of Hong's Villa, the living place of the Hongs, which fostered a group of celebrities; Boat-rowing in the Moonlight, Fog and Water Fishing Village, a tourist center when one can enjoy local delicacies; Xixi Plum Villa, home to more plum trees and famed for its plum blossoms; Gao's Villa, and Music Appreciation in Hezhu.