Attration Category
Beijing Weather


59F ~ 79F
Cloudy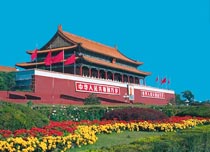 Tiananmen Square in central Beijing, north to south and 880 meters, 500 meters from east to west, covering an area of 44 square meters, can accommodate 100 people held a grand rally. Located in the northern end of Tiananmen Square, the five-star red flag flying high over the square; the People';s Heroes Monument stands in the center of the square; Great Hall of the National Museum of China and east and west sides of the square distant relative; Chairman Mao Memorial Hall and Zhengyangmen tower stands in the square to the south.
Now, thousands of people every day here to visit, tour, Tiananmen Square, Beijing was named the new King of the first sixteen.
Rise and fall time of the national flag in Tiananmen Square, Beijing, sunrise and sunset times based on identified. Is about eight minutes before sunrise every day, that is Beijing';s first ray of sun light has been issued, over eight minutes after the arrival at the flagpole, just flag the national flag guard team will rise to the top of the flagpole. Refer to the specific time dedicated bulletin board on the square.
The vicissitudes of 500 years of wind and rain fill of Tiananmen Square is the world';s largest city square. It is not only a secondary witness to the Chinese people of democracy, freedom struggle, against foreign aggression and reactionary rule of the struggle, it is a celebration held in the Republic, a grand assembly and the outerWelcome to sacred things powerhouse. Tiananmen Square Tour Map
Traffic
Bus 1,2,5,7,9,10,17,20,22,44,48,53,54,59,110,120,309 support, special 1 special 2 special 3 special 4,703, 726,729,742,803,808,819,826,848,859,922 way to get there. Metro Line 1, Tian';anmen East, Tiananmen Square West, Line 2 front door station.
Tickets
Hours :5:00-22: 00,22:00 cleared after the Plaza.