Attration Category
Zhangjiajie Weather


75F ~ 93F
Cloudy
W at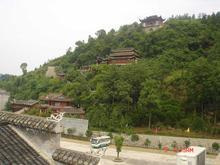 The Zixia Taoist Temple, with a history of about 500 years, was first built in the Ming Dynasty. In 1992, it was restored and expanded with the funds of Zhangjiajie government.
There are over 30 large and small halls in the temple, including 5 halls, 3 palaces, 2 kiosks, 2 temples and 1 tower, and the scenic spots of Eight Immortal Mountain, Footprint Stone of Immortal, and Chinese One Heart Lock, etc.
The group of buildings in the Zixia Taoism Temple looks magnificent and spending. It is mainly used for worship the Gods of Taoism. Zixia Taoism Temple has been honored "No.1 Taoism Temple in West Hunan".
It is a place of religion interest of long history and long standing culture, and it will welcome the guests all around the world coming here for touring or worship with its intensive Taoism culture and beautiful historic scenery.