Attration Category
Xinxiang Weather


32F ~ 39F
Cloudy
S at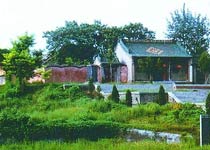 Located in Walker County. The Hill (altar) for the previous years rate of army to attack King Wu of Zhou, in the business of pre-war rural Makino swearing at the Union station, soldiers holding historical records for the princes of the soil cover, that is, "Shang Shumu oath" Mushi contained in the , but is also Wuwang Jun Makino war at the only existing evidence on the ground.
Layer rich in its culture, the Longshan culture to Shangzhouwenhua test site, is a major cultural relics in Henan Province. "Princes Yanwu field", "princes Well," "King Wu Yin Ma Chi", "There are always Review Taiwan" and other historic remains with the mountain (the altar) sequences linked, intertwined to form a battle scene back Makino, Xungu Probing through the ages KingView.
Traffic
16 km west of Xinxiang city, adjacent to the new coke Highway. Walker ride Xinxiang, Jiaozuo, Xinxiang, Xinxiang Wu Zhi bus separate ways, to the Walker Mountain Scenic alliance is to get off.