Attration Category
Xinxiang Weather


28F ~ 43F
Cloudy
SW at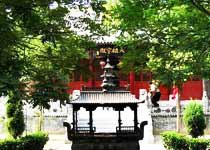 In the urban area thirty kilometers west of the Taihang Mountains, the built in Tang Dynasty and flourished in Ming and Qing Dynasty, Emperor Qianlong south for inspection, hand the title of "cloud free" of the plaque and famous.
Antique gate, the Buddha Hall, Main Hall, the Ming and Qing Dynasty architecture; Song Ocean five hundred monument, the provincial key cultural relics protection units, Foguangpuzhao ZMSS pagoda, embossed fine, life, is to study the Yuan Dynasty Buddhist architecture, sculpture Art of the valuable information.
Temple and outside five years ginkgo tree, pulling trees, such as shade cover. Around full of lush, slender bamboo, mountain sound of blowing Lai Lai, It can make people think about the "Book of Songs", "Bringing the Olympic He Qi, bamboo Yi Yi," the poem.