Attration Category
Xi'an Weather


34F ~ 64F
Sunny To Cloudy
NE at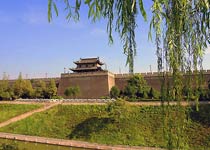 Area of the wall around the city park is surrounded by a large public welfare Park a week. Park main line of the ancient city walls, supplemented by green around the city, surrounded by a moat, and the ancient city wall with each other.
In addition to well within the park around the green, but also has a fitness gallery, with a variety of fitness and leisure facilities, public morning exercise, walking, sitting a good place.

Traffic
From outside the city of Xi'an can all enter.

Tickets
Free