Attration Category
Xi'an Weather


34F ~ 64F
Sunny To Cloudy
NE at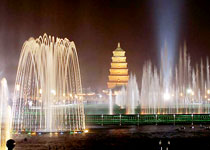 North Square of Big Wild Goose Pagoda
Covering an area of some 110,000 square meters and with an investment cost of 500 million Yuan, this is the largest music fountain square in Asia. The large-scale musical fountain is quite amazing. Here also you can see eight groups of magnificent sculptures and forty delightfully landscaped areas. This is not only one of the most impressive squares in China but is also becoming an important national monument to Tang Culture.
Surrounding Big Wild Goose Pagoda, the scenery is also quite charming, especially the square north of the Da Ci'en Temple. Covering about 110,000 square meters (131563 square yards) plus 20,000 square meters (23920.6 square yards) of water area, it holds many records: in Asia, it is the biggest Tang-culture square, the biggest fountain and waterscape square, and the largest-scale sculptures area. In the world, it has the most benches, the longest light-belt, and the largest-scale acoustic complex.
The entire square is composed of waterscape fountains, a cultural square, gardens and tourist paths. There you can taste real Chinese culture and traditions and fully enjoy the truly attractive views. With reliefs on the theme of the prosperous Tang Dynasty, 200-meter-long (656-foot-long) sculpture groups, 8 groups of sculpted figures, 40 relievos on the land, and 22 styles of musical fountains, it has become a must-see when you visit Big Wild Goose Pagoda.

Opening Hours:
9:00 to 17:30 (Nov, 15 to Feb. 28/29)
8:30 to 18:00 (Mar.1 to May 31 and Oct. 8 to Nov. 15)
8:30 to 18:30 (June 1 to Oct. 7)

Time for a Visit: Two hours

Bus Route: 5, 19, 24, 26, 27, 30, 34, 400, 401, 521, 527, 701, 710, 721, 722, Tourist Bus No.6, and No. 8 (610) (Get off at Cuihua Road bus stop)