Attration Category
Xiamen Weather


77F ~ 90F
Cloudy To Overcast
NE at 30km/h To 40km/h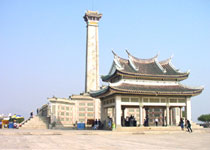 The whole garden covers an area of nearly 9,000 square meters, garden architecture and sculpture, which are reflected in his education through travel, entertaining ideas, including Chinese and foreign ancient and modern, astronomy, geography, science and technology culture, education, calligraphy, painting, animals, plants, industrial and agricultural production In many ways, profound, all-encompassing, is a museum Grand.
50 meters long porch, veranda Chinese galleries, four-way transparent, two walls inlaid 58 Loudiao bluestone story of historical figures, is 653 Turtle Garden Stone';s essence. Porch outside the walls, a variety of stone 291, as well as national celebrities celebrity famous couplets of calligraphy inscriptions, calligraphy excellent, carved arts skills, isFujian stone carving art treasures.
Walk through the lobby, you can see the park';s main building Ao - Jimei Liberation Monument. 28 meters high monument, built with granite, a symbol of the Chinese Communist Party after 28 years of struggle, has made the people';s democratic revolution. Monument inscribed the name of the Chairman Mao Zedong, the back is the Tan Kah Kee and the handwritten inscription written. Beizuo stone fence, carved a variety of rare birds and plants that they reveal.
Turned to the wall as is the Tan Kah Kee';s tomb, the tomb of the afternoon sitting child, was life Guixing, the tomb covered with thirteen hexagonal stone mosaic made of green bucket. Inner wall of the tomb bar screen biography of Tan Kah Kee has 15 floatingCarving, is a rectangular prayer before the tomb pavilion. Tan Kah Kee tomb as a national key cultural relics protection units.
Jimei was originally a small island southeast of the beach, the island has a small temple, called Ngau Tau Palace, also known as Trinidad Palace, the Sino-Japanese War, the Japanese destroyed. In 1950, Tan Kah Kee built in the ruins of Turtle Garden. Ao Park from the porch, monuments, tomb Jiageng composition. Fujian is the park';s many carved stone carving art of the soul treasure.
Jimei Liberation Monument, the main building is the Turtle Garden. Chairman Mao Zedong inscribed the front of the "Jimei Liberation Monument." Chairman Mao wrote the name of liberation for the record, a small townMonument monument name is the only one.

Traffic
Jimei walk from the past, the Turtle Garden Jimei school in the next.
Tickets
20 yuan (including the former residence of Tan Kah Kee, Tan Kah Kee Memorial Hall Tickets)
Opening Time: 6:00 ~ 20:00