Attration Category
Xiamen Weather


77F ~ 84F
Heavy Rain To Light Rain
S at 30km/h To 20km/h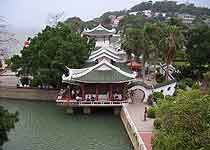 Shuzhuang Garden is located on the south of Gulangyu Island, sandwiched between ocean and cliff. On the east lies Guanhai Garden Traveling Village. On the west lies Gangzihou Bathing Beach. First built in 1931, the garden was once a private villa of a Taiwan businessman, Lin Erjia, Meant as an exquisite replica of Banqiao villa in Taiwan, it subsequently became a garden park open to the public in the 1950s.
Shuzhuang Garden has many newly built facilities in recent years and its size has also been expanded. Especially the wave-listening pavilion is transformed into a "Piano Museum", displaying 30 famous and ancient pianos collected for a lifetime by Hu Youyi who is from Gulangyu living in Australia. It is "China's only and the world's first-class" treasure house of pianos, with nearly 100 precious historic pianos from throughout the world. The museum is an epitome of Gulangyu's musical culture and makes Gulangyu Island deserve the name of Piano Island and adds extra charm to it.
Traffic
Gulangyu view of the sea by ferry to Pier Park, landed a few minutes walk to that.
Tickets
30 per ticket, the evening free. With the Sunlight Rock, Haoyue Park, Organ MuseumLettering and the International Museum of Art ticket is RMB 100.
Opening hours: 6:00 ~ 18:30.