Attration Category
Xiamen Weather


63F ~ 73F
Overcast To Cloudy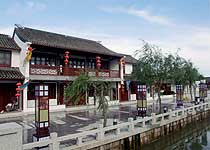 Located in the Apricot Forest Bay of Jimei, the hometown of Mr. Tan Kah Kee, a leader of the overseas Chinese, the Expo Garden is where the Sixth China International Garden & Flower Expo was held. It is a grand view garden on the sea, with nine islets scattered here and there, a hundred gardens contending in beauty, picturesque scenery and strong customs on both sides of the straits. The scenic zone covers an area of 10.82 square kilometers, including a land area of 5.55 square kilometers. It displays the broad and profound traditional Chinese garden art, rich and varied international garden styles, and traditional Chinese education history, fully reflecting the harmony between man and nature, and the local people's efforts to improve the habitat environment and promote the city's sustainable development. It is the largest garden on water in the world.
The exposition gardens are built in accordance to different schools. Participating cities creations are labeled as Garden of Northern China, Garden of Southern Yangtze River, Garden of Ethnic Culture as well as Modern Garden and International Garden; all these have identifiable styles of different garden construction schools and the characteristics of regional cultures. Meanwhile, the Exposition Garden has gathered the latest gardening styles from both home and abroad by establishing the section for young international landscape designers. Eight young but famous landscape designers from the USA, France, Japan and China, have participated in the layout of the Garden. Xiamen Garden Expo is one of the key construction projects during the period of "Eleventh Five-Year"; its prophase total investment is 28 billion Yuan. Its traveling resources are rich. In its layout, the garden is composed of nine islands and hundreds of small gardens.
To celebrate the Spring Festival and enrich the New Year's atmosphere in Xiamen, a chrysanthemum was held at Xiamen Expo Garden from 13th to 28th February 2010. More than 10 thousand pots of chrysanthemum was displayed during the period. The most special exhibit zone was the Wenfeng Tower in the Lingnan Garden. The 16-meter-high Wenfeng Tower was decorated as a chrysanthemum tower with over 10 thousand small chrysanthemums. A painting and calligraphy exhibition relevant to chrysanthemum had been held at the Shenzhen Garden. Some renowned calligraphers and painters were invited to the exhibition and create works on the spot.