Attration Category
Xiamen Weather


55F ~ 72F
Cloudy To Sunny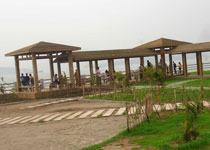 Haiwan Park, the largest urban park in Xiamen, is located within walking distance of the Marco Polo and Pan Pacific Hotels and is about a 5 minute taxi ride from the Millennium Harbourview and Wyndham Hotels. The park, which was built in 2006, covers an area of over 200,000 square meters, offering a dazzling view of the bay with Haicang Bridge on the right and Gulangyu Islet to the far left. Haiwan Park is a multi-faceted entertainment hub, incorporating both leisure and recreation. It is the perfect place for a jog in the fresh morning air, a romantic dinner date, a relaxing after-work beer or night of burning up the dance floor.
Haiwan Park is divided into seven distinct sections: Sky Garden, Earth Garden, Tree Garden, Grass Garden, Water Garden, Coastal Scenery Garden, and the Star Boulevard, which separates the park into northern and southern halves. Star Boulevard, which is 300 meters long and 40 meters wide and implements over 2000 computer-controlled LED lights, features a breathtaking musical fountain with 240 water nozzles. At night, Star Boulevard comes alive with its multi-colored lights displaying a variety of mesmerizing patterns.
Haiwan Park offers several additional options for after-dark entertainment, including a variety of restaurants, bars and dance clubs, all nestled comfortably within a pleasant park setting overlooking the sea. Haiwan Park is a favorite of both locals and expats who generally tend to stroll along the seafront before settling down to unwind at one of the park's many excellent establishments.