Attration Category
Wuhan Weather


82F ~ 99F
Showers To Sunny
SE at 20km/h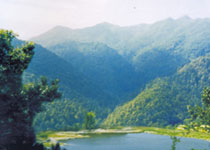 Located in the Mulan Town, Wuhan City, Hubei Province, Mulan Lake is next to the famous mountain-Mulan Mountain, which is 60 kilometers away from the central part of Wuhan City. It is a provincial tourist resort for sightseeing, leisure and vocation, honored the backyard garden of Wuhan and pearl of Hubei Province.
Mount Tianzi and Mulan Lake is the only scenic tour zone that provides service of drifting in Wuhan, where water from rock cavity flies downward and penetrates wood and brook. The water area of the Mulan Lake is quite large, the water in the lake is very clear, and the water quality is fine. The racing boats on the lake are interesting, fishing, rowing and swimming in the water is very pleased indeed.
The water of Mulan Lake is very clear, just like a mirror embedded in the land. There are 108 lakes and 32 islands of different sizes scattered in Mulan Lake. Surrounded by green mountains, the lake is full of many trace elements which are good for the health of people. It is also the direct water source for people's daily life. Standing on the Mulan pavilion in natural reserve on the south bank of the lake, you will have a whole view of the spectacular lake sights and appreciate the postures of various wild animals and birds.

Colorful Historical Culture
The Mulan Town is a famous general town in the Chinese history. It is the home town of Chinese ancient heroine-General Mulan. Nowadays, the great cultural relics-Mulan General Temple and General Tomb, are well reserved at the bank of Mulan Lake. It is also the residence of Li Yuanhong, the former president of the Republic of China in the past. Besides, here is the famous revolutionary area in Wuhan and many prominent revolutionists had carried on some important revolutionary activities here. In 1985, the Mulan Town was awarded "Education Base for Revolutionary Tradition".

Since construction in 1992, there are more than 600,000 visitors coming here every year. The picturesque ten miles Mulan River and ancient village-Dayuwan built in the transitional period of Ming and Qing Dynasties have been selected as the provincial important heritage conservation units. The ancient village is full of ancient buildings, providing an ideal place for modern people to seek for peaceful life. Every year, many travelers come here to experience the unique ancient customs and cultures.